Recipe by Nishma Shah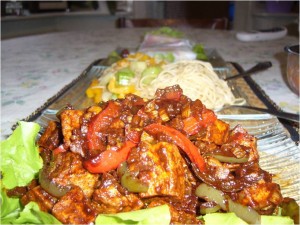 Ingredients:
340g extra firm tofu
3 tablespoons tamari/soy sauce
3 pineapple rings
1 tablespoon rice vinegar
2 whole pitted dates (or more depending on desired sweetness)
½ red pepper
½ yellow pepper
2 chillies, medium hot
Sesame oil (optional for greasing the pan)
Preparation:
Blend the rice vinegar, tamari, dates and one pineapple ring to a fine paste.
Cut the remaining pineapple and bell peppers into 1-inch cube-shape pieces.
Drain the water from the tofu, and cut the tofu into 1-inch cube-shape pieces.
Slice the chillies in rings.
Method:
Warm up a non-stick pan and keep on low heat.
When the pan is warm, add the tofu pieces.
As the tofu pieces cook they will release water – simply allow the water to steam off.
Toss the tofu pieces so that they do not stick to the pan.
Let the pieces brown slightly, or cook until they are hot to touch.
Increase the heat if the tofu pieces are not browning.
Add the chillies and stir.
Add the remaining ingredients.
Let all the flavours blend. If using canned pineapple add the pineapple juice if the tofu is absorbing all the liquid.
Allow to simmer for about 5 minutes, or until all the tofu pieces have been coated well.
Can be served with rice or noodles.