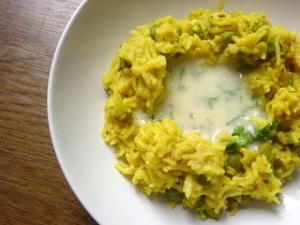 Khadhi
Recipe kindly provided by Pratibha Mehta
Ingredients:
1 400g tin coconut milk (or soya milk, for a healthier version)
1 tin water
1 tablespoon gram flour (channa no lot / chickpea flour)
1 teaspoon corn flour
Juice of 2 limes
Salt (to taste)
Turmeric
Coriander leaves
Green chillis, finely chopped
Ginger, finely chopped (optional, leave out if Jain)
For vaghar:

1 tbsp vegetable oil,
1 tsp Cumin seeds
Quarter tsp mustard seeds (rai)
1-2 cloves
1 piece of cinnamon
Curry leaves (optional)
Method:
Mix together coconut milk, gram flour and corn flour.
Do the vaghar by heating oil in a saucepan and adding other vaghar ingredients.
Add the coconut milk/flour mixture to the pan and all the other ingredients.
Keep stirring and bring to the boil.
Note:  The soya milk version may require a little more gram flour.
Khichdi
Recipe kindly provided by Ranjanben Chandaria
Ingredients:
1 cup rice
1 cup moong dal
5 cups water
2 tsp salt
Half tsp turmeric
Method:
Cook all the ingredients in a pressure cooker.
Serve with kadhi
Photo courtesy of http://thespiceycoffee.wordpress.com/