Recipe by Rena Shah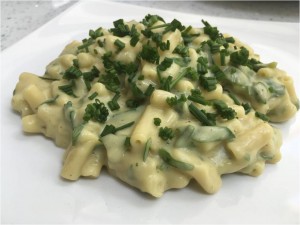 Ingredients:
500g macaroni pasta
1 medium cauliflower
4 matoke (small green bananas)
40-50g nutritional yeast
230ml oat milk
2 – 3 tbsp vegan butter or margarine
100g fresh spinach
10g chives
10-12 whole peppercorns
Salt to taste
Method:
Wash and cut cauliflower into florets
Wash and cut the ends off the matoke. Cut them into thirds and cut a slit into the skin and halfway into the flesh to allow expansion during cooking.
Steam the cauliflower and matoke for 15 minutes or until soft. Leave aside to cool or run under cold water.
Cook the macaroni as per the packet instructions.
Wash and finely chop the spinach.
Once the vegetables have cooled, peel the matoke skin off and remove any discoloured fibres.
In a blender or food processor blend the vegetables, vegan butter, oat milk, nutritional yeast, salt and peppercorns. (This sauce can be used in other dishes where you want to replace a bechamel e.g. in lasagne)
Mix together the macaroni, sauce and spinach while the macaroni and sauce are still warm.
Serve with chopped chives on top.