Components:
Butternut squash burrito filling
Guacamole
Tomato and red pepper salsa
Grated vegan cheese (optional)
Ready made tortillas
To serve:
Warm up the tortillas
Add butternut squash filling, guacamole, salsa and vegan cheese.
Wrap and enjoy.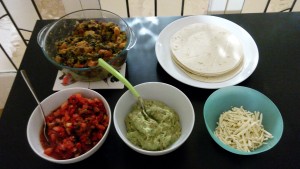 Butternut squash burrito filling:
Ingredients
1 butternut squash, cubed
2 tsp ground cumin
½ – 1 tsp cayenne pepper (to taste)
½ tsp ground cinnamon
1 bell pepper, cubed
1 400g can black beans or kidney beans
A large handful of kale, chopped
Salt to taste
Method
Place chopped butternut squash in an oven dish, toss with some oil and roast at 200°C for approximately 30 minutes, until tender.
In a saucepan, heat a tablespoon of oil and saute the spices for a minute.
Add the pepper and cook for 2-3 minutes.
Add the beans and roasted butternut squash and mix.
Add the kale, season with salt and mix until the kale has wilted.
Guacamole:
Ingredients:
2 avocados
1 tomatoes
Handful of coriander
½ lime
Salt to taste
Method
Mash avocado in a bowl.
Finely chop the tomato, and add to the avocado
Finely chop coriander and add to the bowl.
Squeeze lemon juice into the bowl.
Season with salt, and mix.
Tomato and roasted pepper salsa:
Ingredients
2 tomatoes
2 roasted peppers, either readymade from a jar or made by coating with oil and roasting until tender.
Small handful coriander
Salt to taste
Method
Fine chop tomatoes, peppers and coriander and add to a bowl.
Season and mix.