Recipe from Demuths: http://demuths.co.uk/rachels-blog/article/vegan-chocolate-fudge-cake
Ingredients:
Cake:
300gms self raising flour

3 tsp baking powder

50gms cocoa

250gms caster sugar

1 tsp pure vanilla essence

9 tbsp sunflower oil

175ml orange juice

175ml water
Icing:
250gms icing sugar

1 tbsp cocoa

50gms vegan sunflower margarine

3 tbsp boiling water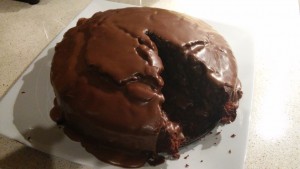 Method:
Cake:
Sift flour, baking powder and cocoa into a large mixing bowl.

Add the caster sugar, vanilla essence, sunflower oil, orange juice and water.

Whisk to a batter like consistency.

Pour into a greased 20cm tin.

Bake at 190℃ in the middle of the oven for approximately 40 minutes or until a skewer when inserted in the cake comes out clean.
Topping:
Sift the icing sugar and the cocoa into a bowl.

Melt the margarine with the boiling water.

Add the margarine mixture to the sugar mixture and mix well.

Spread the warm topping over the cake and leave to harden.