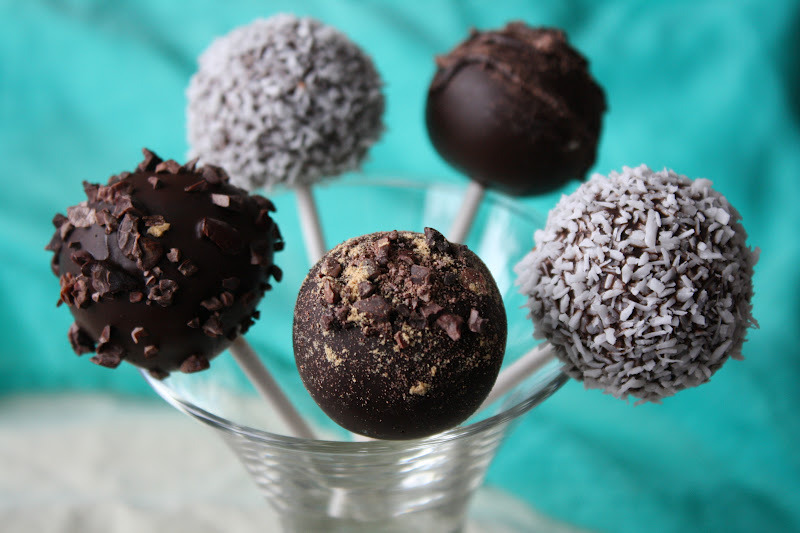 Ingredients:
500gm pitted dates
1 teaspoon cocoa powder
30gm puffed rice cereal
100gm dark chocolate
A couple of drops of water

Coating (optional):
Finely ground dessicated coconut; or
Grated dark choclate; or
Crushed nuts

Accessories:
Lollipop Sticks
Stand for lollipop sticks (toast rack, glasses, or polystyrene block will do)
Method:
In a non stick pan, warm the dates on a low heat. Add a couple of drops of water of the dates begin to stick.
Continue to stir until the dates become sticky and is a consistency of melted chocolate.
Take the pan off the heat and transfer the dates to a tray.
Once the mixture has cooled down, add the puffed rice cereal and knead likea dough. Be gentle in order to avoid crushing the puffed rice cereal.
Break the dark chocolate into small pieces, and melt by placing in a heat resistant glass bowl over a pan filled with hot water.
Roll the date mixture into a golf ball shape using the palm of your hands.
Gently push the lollipop stick through the date ball.
Dip the ball in the melted dark chocolate and decorate it with desiccated coconut, grated chocolate or crushed nuts.
Rest the chocci pops on the polystyrene block while you continue to work on others.
*Note: Photo taken from http://foodandyogaforlife.blogspot.co.uk/
 Adapted from a demonstration provided by Nishma Shah of Shambhu's Vegan Catering at the Young Jains Diwali Celebrations on 3 November 2012*.