Article by Sagar Kirit Shah
Every now and again, I encounter someone a vegetarian or vegan reflecting on a recent holiday trip, complaining about the availability of vegetarian food when abroad.  Adhering to a special diet can be a real challenge in many countries, especially ones where the concept of vegetarianism is largely unheard of.  But on many occasions, I have heard complaints about destinations such as New York and Thailand – places where it is actually possible to eat very well as a vegetarian.
Over the past 10 years or so, I've travelled to about 30 different countries, and have uncovered a number of tricks to help get good vegetarian food while traveling abroad, minimising the risk of being faced with a choice of chips (cooked in animal fat), pizza (topped with non-vegetarian cheese), and vegetable soup (made from beef/chicken stock).  While my tips focus on how to source vegetarian and vegan food, the tips can be equally handy for finding food for other requirements, including gluten-free and root-vegetable-free diets.
Tip 1 – Do research before you go
It may sound obvious, but the first thing that one should do before heading out to a destination is a little bit of research using the internet.  You are far more likely to find a vegetarian friendly restaurant by harnessing the information on the net than wondering around in a foreign country or asking a hotel clerk (who probably isn't familiar with vegetarian friendly places).
Rather than a google search, I find the best place to start is a volunteer-run website called Happycow.net.  It has listings of vegetarian restaurants around the world, along with reviews, basic tips for for some countries, and a very handy map feature (it also has a smartphone app).  Just to give a sense of how many vegetarian friendly places there are in various countries, Happy Cow has about 8500 listings in the US, 800 in Germany, and 375 in Thailand.  Even countries such as France and Spain have hundreds of listings.
Once you have found some specific places of interest at your destination, googling specific restaurants along with the location and "vegetarian", will typically give search results with the best local vegetarian guides and reviews.
Tip 2 – E-mail hotels and resorts to enquire before you book
Again, it may sound obvious, but a simple email to a hotel or resort before booking can save lots of time and hassle later on.
Tip 3 – Get written instructions of your diet in the local language
When you travel to a foreign country, it is unlikely that you will eat at vegetarian or vegetarian friendly restaurants for every meal.  It is also unlikely that you will only eat at establishments where the staff have a good command of english and an understanding of the needs of vegetarianism.
Having instructions for your specific dietary requirements, written in the local language, can be very helpful in communicating your needs, and can help avoid the frustration of being served something not suitable for you.
Maxlearning.net provides some very helpful wallet-sized cards which clearly explain what vegans can and can't eat in over 80 different languages.  Print one out and keep one in your wallet when you travel.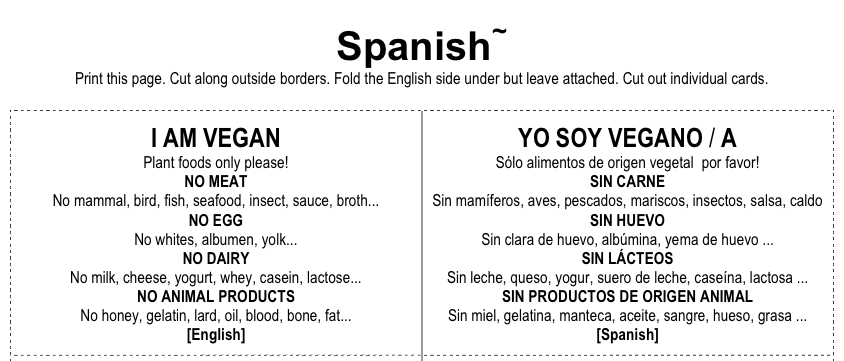 The Vegan Society also publishes a "Vegan Passport"which explains very clearly what vegans can and can't eat in over 70 languages, and also contains a series of picture pages which allow you to point to things you can and can't eat.
Tip 4 – Ask for recommendations from locals working at vegetarian restaurants
Staff working at vegetarian restaurants are often very passionate about vegetarian food and non-violence, and will often be very friendly, and offer lots of useful tips and tricks, especially in countries where vegetarianism is not common.  They will often be able to provide information about local dishes that might easily be modified – and may also be able to provide you with written instructions (as noted in Tip 3).
If you want to maximise your chances of getting good vegetarian food on a trip, my advice would be to try and get to the top listed vegetarian (friendly) restaurant and to ask for tips/recommendations as soon as possible after arriving at your destination.
Tip 5 – Check opening hours and/or call before you go to avoid disappointment
While there are often many vegetarian restaurants listed on the internet, many of them have strange opening hours or are only open on certain days of the week. And because many websites providing listings are user-generated and volunteer-run, occasionally it takes some weeks/months for websites to be updated after a restaurant closes.
There can be nothing worse than traveling across a city to find that the establishment you were intending to dine is closed or has shut down.  In order to minimise this risk, double check the opening hours online, and if there haven't been any reviews in the past few weeks, call the restaurant in advance to double check it is open/make a booking.
Taken together, these tips should help find suitable food when traveling abroad, and reduce the likelihood of a lack of suitable food ruining an otherwise great vacation.