Halwa
Recipe provided by Nishma Kothari and adapted by Rena Shah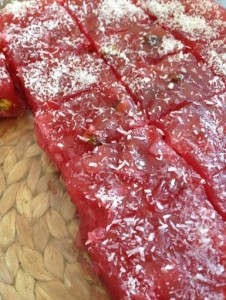 Ingredients:
100g cornflour

1 litre water

600g sugar

1/8 tsp vegan food colour (e.g Wilton brand)

1 handful blanched and flaked almonds

1 handful whole pistachios

4 tbsp vegetable or sunflower oil

3 tbsp dairy free spread (e.g. Vitalite) plus a small knob to grease your dish

2 tsp ground cardamom (or more/less, dependent upon taste)

2 tbsp dessicated coconut for decoration (optional)
Method:
Grease the bottom and sides of a dish (e.g. large pyrex baking dish/ steel sani) with a knob of dairy free spread.

In a large non-stick pan, on high heat, mix the cornflour with the water. Once combined, add the sugar and bring to boil. Stir continuously.

Once boiling, lower the temperature to medium heat and continue stirring.  You may notice some 'lumps' of sugar.  Don't worry, continue stirring until mixture is thicker and fully combined.

Add food colour. Stir until all of the food colour is evenly distributed.

Add the almonds and pistachios. Continue stirring ensuring mixture is not sticking to the bottom or the sides of the pan, for about 5 minutes.

Lower the heat to a low setting.  Add one tbsp of oil and stir for 1-2 minutes until combined.  Then add one tbsp of dairy free spread and stir for 1-2 minutes until combined.  Continue keep alternating one tbsp. of oil and dairy free spread in the same way.

You should have a thick consistency that falls off the spoon (but is not runny like syrup).

Stir the cardamom through the mixture for 1-2 minutes.

Turn off the heat and transfer to your greased dish.  Once all the mixture is in the dish, give it a gentle shake to remove any air bubbles and ensure an even distribution.

(Optional) Sprinkle with the dessicated coconut.

Let the halwa set at room temperature and then transfer to fridge.  Once set firmly, cut into pieces.